Revitalize your participants with a massage!
The organization of events at the FORUM Zagreb is richer for another innovative offer – massage of participants in the transfer chair!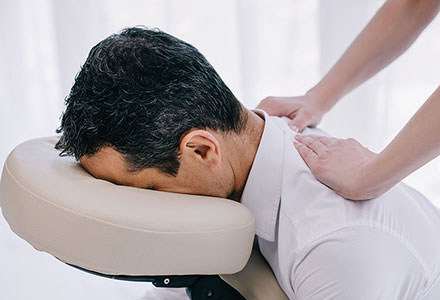 FORUM Zagreb se trudi u svoju bogatu ponudu dodatnih usluga za organizaciju događanja uvijek uključiti i aktivnosti koje će revitalizirati i osvježiti sudionike u pauzama. Tako uz Kisikuru – terapiju čistim kisikom i aktivnu pauzu u vidu tjelesnog vježbanja niskog intenziteta, od sada u ponudi ima i masažu na prijenosnoj stolici, kao brz i djelotvoran način za trenutno opuštanje i "vraćanje u život". Dovoljno je izdvojiti 15 min od pauze za kavu ili ručak, sjesti na stolicu za masažu i prepustiti se profesionalcima iz EsteFit tima.
Masaža se izvodi na posebno dizajniranoj, ergonomskoj stolici kako bi se osoba mogla udobno smjestiti i opustiti. Masažu izvode profesionalni, certificirani terapeuti, a masira se preko odjeće, bez ulja, što omogućuje da se sudionici vrate na posao, sastanak ili predavanje u trenu.
Koristi masaže na prijenosnoj stolici
Fokus masaže je na leđima, vratu, ramenima i rukama, tako da je olakšanje trenutno, a rezultati tretmana dovode do smanjenja razine kortizola – glavnog hormona stresa koji je jedan od krivaca za  visoki krvni tlak, debljinu i pretjeranu želju za slatkim.
Nakon masaže sudionici će osjetiti:
– podizanje energije i povećanje produktivnosti
– poboljšanje raspoloženja i koncentracije
– ublažavanje napetosti mišića
– smanjenje depresije, tjeskobe i stresa
– poboljšanje cirkulacije i smanjenje krvnog tlaka
– osjećaj odmorenosti.
Pozitivan učinak masaže je vidljiv, trenutan i garantiran.
Izađite iz standardnih okvira organizacije događanja i priuštite svojim sudionicima drugačije iskustvo! Priuštite im zanimljivu i zdravu pauzu – masažu koja će poboljšati njihovo raspoloženje i produktivnost te ih učiniti još aktivnijim sudionicima vašeg događanja!