We wish you a relaxing holidays
We were all very busy and it's time to take a little break. We hope to be even more effective and full of positive energy after deserved holidays.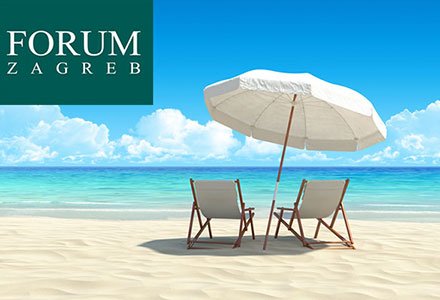 Došlo je vrijeme i da se malo odmorite. Naporno ste radili, uložili puno truda u organiziranje događanja, konferencija, seminara i predavanja. Mi smo nastojali pružiti vam podršku, pomoći najbolje što smo znali i osigurati da vaše poslovno događanje zaista zablista u punom sjaju i donese vam željene rezultate.
Nadamo se da smo uspjeli ispuniti vaša očekivanja, i još više od toga. Sada je vrijeme da se malo odmorite, skupite snage i puni elana i novih ideja krenete u realizaciju novih događanja nakon ljetnih praznika.
I mi ćemo se malo odmoriti i otići na kolektivni godišnji odmor od 31. srpnja do 6. kolovoza. U tom periodu Forum Zagreb će biti zatvoren.
Sve upite možete slati na mail rezervacije@forumzagreb.net, a u hitnim slučajevima slobodno nas kontaktirajte na broj +385 99 722 88 63.
Odmorite se, opustite i uživajte u suncu i moru koliko god možete. Želimo vam ugodno i toplo ljeto!