Consulting services on Tax Issue and application of IFRS
March 21st – Consulting services on Tax Issue and application of IFRS, organized by BDO Academy, will be held at Forum.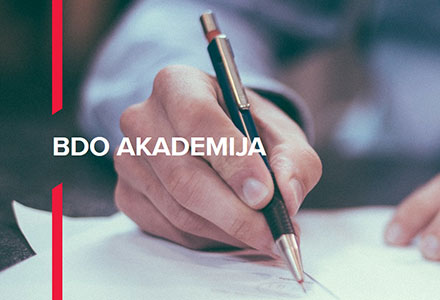 Tijekom savjetovanja će se razmijeniti mišljenja i podijeliti savjeti kako uspješno savladati sve promjene koje donose novi porezni zakoni i primjena Međunarodnih standarda financijskih izvještavanja te kako iste integrirati u poslovanje.
Na savjetovanju će biti obuhvaćene teme Porez na dodanu vrijednost (aktualnosti i promjene u 2018., posebnosti PDV-a za zadnje obračunsko razdobolje i popis imovine i obveza s aspekta PDV-a), zatim Zakon o administrativnoj suradnji u području poreza (usklađenje s odredbama Direktive Vijeća (EU) 2016/2258 u pogledu pristupa poreznih tijela informacijama o sprječavanju pranja novca, pristup informacijama koje se odnose na dubinsku analizu i na stvarnog vlasnika i registar stvarnih vlasnika), Porez na dobit (aktualnosti u 2018. – izmjene i dopuna Zakona o porezu na dobit, vrijednosna usklađenja i otpisi potraživanja, utvrđivanje i obračun poreza po odbitku i porezni tretman statusnih promjena), Porez na dohodak (aktualnosti u 2018. – izmjene i dopune Pravilnika o porezu na dohodak, korištenje poreznih prava kod godišnjeg obračuna poreza na dohodak, porezni tretman i obračun primitka u naravi), Zakon o posebnom porezu na motorna vozila (porezni tretman stjecanja vlasništva rabljenih motornih vozila do 31. prosinca 2017., prijenos vlasništva rabljenih motornih vozila od 1. siječnja 2018.), Ulaganja u nekretnine sukladno zahtjevima HSFI-a 7 i MRS-a 40 (računovodstveno motrište klasifikacije nekretnina i utvrđivanja njihove vrijednosti) te Računovodstveni, operativni i financijski izazovi kod prijelaza na MSFI 16 (opseg primjene MSFI 16 i izuzeća od primjene, jedinstveni model za najmoprimce, promjene u bilanci i promjene u računu dobiti i gubitka).
Dodatne informacije o savjetovanju, predavačima i prijavi možete dobiti putem e-maila bdo-akademija@bdo.hr ili na telefon 01/4093-391.