Introducing: Eventrify congress platform
When organizing your next event in the FORUM Zagreb, take advantage of the mobile conference platform Eventrify.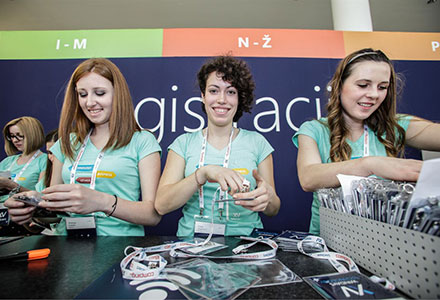 Raznolika ponuda dodatnih usluga FORUMA Zagreb, obogaćena je još jednom modernom tehnološkom inovacijom. Prilikom organizacije sljedećeg poslovnog događanja ili konferencije, na raspolaganju vam stoji i tvrtka Eventrify, s rješenjima namijenjenim mobilnom upravljanju resursima i procesima na vašem događanju, poput registracije i komunikacije sa sudionicima, rezervacije smještaja, praćenja programa konferencije, interaktivnih igara i sl.
Ključni aspekt Eventrify platforme je u povezivanju organizatora, sponzora i sudionika u svrhu bolje interakcije i razmjene informacija, a dostupne i interaktivne usluge potiču interakciju sudionika sa sponzorima i organizatorima što rezultira većom razinom zadovoljstva sudionika.
Prednosti Eventrify kongresne platforme
Dostupnost – ova platforma omogućuje sudionicima pristup informacijama putem mobilne aplikacije umjesto papirnatih kongresnih materijala i rasporeda koji se tijekom kongresa često promijene. Sudionici tako mogu kreirati vlastiti raspored i dobiti od vas obavijesti o svim novostima i promjenama za vrijeme kongresa.
Kontrola – Eventrify omogućava da u svojoj ponudi imate razne vrste kotizacija s različitim pravima, primjerice da samo određena vrsta kotizacija ima pristup ručku i da svaki sudionik može iskoristiti akreditaciju za ručak jednom. Također, možete sudionicima omogućiti da se predbilježe za neko predavanje ili radionicu kako biste naknadno prilagodili kapacitet dvorane.
Mjerljivost – kongresna platforma Eventrify vam omogućava da u realnom vremenu pratite posjećenost po predavanjima, aktivnosti po sudioniku, mišljenja sudionika, interakcije s izlagačima i sl. Za više informacija o ovoj inovativnoj platformi posjetite www.eventrify.us.
Iskoristite sve prednosti Eventrify kongresne platforme i učinite svoje evente jednostavnijima i zanimljivijima u FORUMU Zagreb!