Mini MBA – Executive leadership
10th April – 29th May – The Mini MBA – Executive Leadership, specializing educational program organized by the Mirakul Educational Center will be held in Forum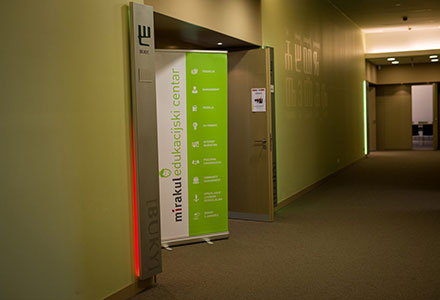 Mini MBA – Executive leadership specijalistički je modularni program koji polaznicima pruža priliku da slobodno i otvoreno razmjenjuju poglede i iskustva s eminentnim liderima i predavačima iz regije, kao i kolegama iz različitih industrija. Održava se u organizaciji Mirakul edukacijskog centra u Kongresnom centru Forum Zagreb od 10. travnja do 29. svibnja 2019. godine.
Mini MBA – Executive leadership program će vas osposobiti za izgradnju i motiviranje učinkovitih timova, rješavanje strateških problema i potaknuti promjene prije svega vas samih, a potom i promjene u vašoj organizaciji. Ključni fokus programa je na osobnom razvoju i poboljšanju svijesti o osobnom stilu vođenja.
Cilj programa je osvijestiti i dodatno razviti osobni stil vođenja kako biste tehnikama utjecaja mogli izgraditi željenu organizacijsku klimu. Naučit ćete kritički analizirati, artikulirati strateški, promišljati holistički i voditi s povjerenjem jer izvršno vodstvo je sposobnost onih koji upravljaju i usmjeravaju svoje zaposlenike da utječu na njih i vode ih prema ostvarenju organizacijskog cilja.
Ključne prednosti i ishodi učenja na programu Mini MBA – Executive leadership:
Poboljšati temeljne vještine potrebne za holistički pristup poslovnim izazovima i donošenje boljih izvršnih odluka
Program pomaže sudionicima da ostvare svoj potencijal u vođenju kreiranjem konkurentne strategije i provedbom značajnih promjena u cilju postizanje izvanrednih rezultata
Važan ishod seminara je razviti veću svijest o svom stilu vođenja i načinu na koji ga drugi percipiraju
Pregled programa po modulima
Ovaj sveobuhvatni program je sastavljen od tri modula, a temelji se na razmjeni iskustava, studijama slučaja hrvatskih kompanija i samoprocjeni osobnih vještina vodstva.
1. BUILDING YOUR LEADERSHIP SKILLS – Izgradnja vaših liderskih vještina
Datum početka: 10. travnja 2019. ( 9-16h )Predavačica: doc.dr.sc. Jasminka Samardžija
2. DEVELOPING LEADERS IN OTHERS – HOW TO BUILD RELATIONSHIP WITH YOUR PEOPLE? – Razvijanje lidera u drugima – kako izgraditi vezu s vašim ljudima?
Datum početka: 7. svibnja 2019. ( 9-16h )Predavač: Branimir MuidžaPredavač: doc.dr.sc. Davor Perkov
3. EXECUTIVE LEADERSHIP DECISION MAKING AND STRATEGIC PLANNING – Izvršno odlučivanje i strateško planiranje
Datum početka: 29. svibnja 2019. ( 9-16h )Predavač: mr. sc. Zoran Uranjek, dipl.ing.Predavač: Alen Premužak MBA
Više o programu saznajte na stranicama Mirakula.