How to Communicate With New Age Children?
March 9th and 10th – Conference "Milk Tooth: How to Communicate With New Age Children" will be held at Forum.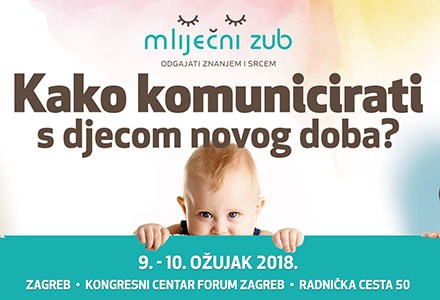 Na konferenciji "Mliječni zub: Kako komunicirati s djecom novog doba" cijenjeni europski i domaći stručnjaci prenijet će vam najnovija saznanja iz pedagogije, psihologije i komunikologije o tome kako učinkovito komunicirati s djecom rane i predškolske dobi, te podržavajući njihov intelektualni i emotivni razvoj, postati uspješniji odgojitelji i roditelji.
Odnos s djetetom u prvim godinama života važan je temelj za njegov kasniji uspjeh u životu. Jesu li vaše odgojne vještine i kompetencije u skladu s potrebama djece suvremenog doba?
Odgajajući svoju djecu autentično i srcem, kao i koristeći najnovija saznanja i odgojne prakse koje vam predstavljamo, lakše ćete pronaći svoj put u odnosu s djecom.
Stručnim programom konferencije želimo podržati i osnažiti odgojitelje u odgojno-obrazovnoj ulozi, kako bi, razvijajući svoje vještine i kompetencije, adekvatno odgovorili na svakodnevne izazove u odgoju djece rane i predškolske dobi.
Naši ključni govornici su Jesper Juul (FamilyLab), Iben Sandahl (The Danish way) i Ranko Rajović (NTC).
Program možete pogledati ovdje, a sve o ulaznicama i prijavi na službenoj stranici Mliječni zub.