Forum is celebrating its 5,000th event!
This day has finnaly happened! 7 years after opening – we came to our event's jubilee number and surprised all the clients who was in the Forum that day!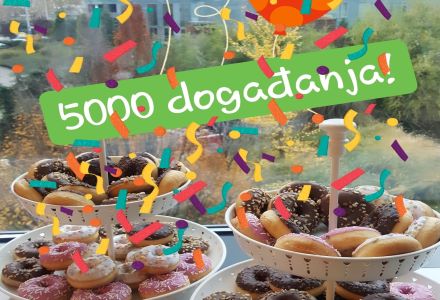 Krenuli smo sasvim mali, ali sada smo već dovoljno veliki 😉 Sve je krenulo još 2012. godine kada je Forum Zagreb otvorio svoja vrata kako bi Zagrebu pružio jedno novo kongresno iskustvo.
Kongresni centar FORUM Zagreb smješten je u ekonomskom i gospodarskom srcu Zagreba, poslovnom centru Green Gold. Na više od 1,560 m2 moderno uređenog prostora, s 9 višenamjenskih i dimenzijski prilagodljivih kongresnih dvorana opremljenih vrhunskom tehnologijom, uz kvalitetnu i individualiziranu podršku našeg tima od planiranja do realizacije – FORUM Zagreb ima viziju biti Vaš najbolji izbor za organizaciju poslovnih i društvenih događanja.
To su prepoznali mnogi naši klijenti koji nam se uvijek iznova vraćaju i ovim putem im zahvaljujemo na tome.
Nakon 7. godina od otvaranja, imamo tu čast da na današnji dan slavimo naše 5000-to događanje.
Povodom tog događaja smo sve naše klijente, koji su taj dan s nama u Forumu, počastili malim slatkim iznenađenjima i time svima uljepšali još jedan uobičajen utorak.
Misija je kongresnoga centra FORUM Zagreb najvećom profesionalnošću, podrškom i izvrsnom uslugom doprinijeti uspješnoj organizaciji poslovnih događanja svojih klijenata, od manjih seminara i sastanaka do srednje velikih kongresa.
Uspjeh poslovnih događanja klijenata naša je odgovornost.
Hvala svima koji su prepoznali naš trud i što ste nam omogućili da dođemo do ove brojke i da s veseljem pripremamo sva naša buduća događanja.