Forex and Crypto Trading
March 24th – Free seminar about Forex and crypto trading, investing and education, organized by Take Profit Academy, will be held at Forumu.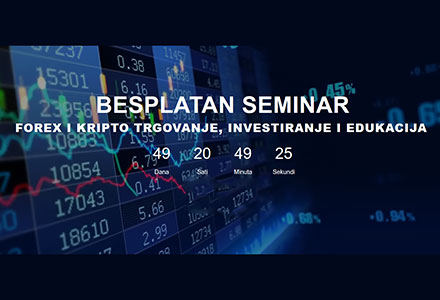 Take Profit Academy uspješno trguje valutama na Forex i kripto tržištima od 2014. godine, a njihovi traderi se nalaze u top 5% u Europi prema ostvarenim rezultatima.
Na ovom seminaru žele podijeliti s vama njihovo znanje i iskustvo te vam predstaviti jedinstven sustav pomoću kojeg možete konstantno ostvarivati profit s bilo kojeg mjesta na svijetu.
Pokazat će vam načine na koje možete postati financijski neovisni i da ako već niste, postanete dio rastućeg Forex i kripto financijskog tržišta – zato što znaju što vam je potrebno da budete uspješni!
Novčanik ostavite kod kuće.
Prdavači su David Palka, Andrijano Vujasin, Bex Boštjan i Luka Lah, a više o seminaru i predavačima može saznati na stranici Take Profit Academy. Vidimo se!