Kids are our most important job
September 27th – UNICEF invites you to a conference to presents research findings on the impact of the business sector on children's rights in Croatia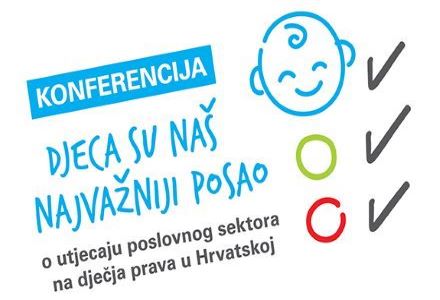 UNICEF vas poziva na konferenciju "Djeca su naš najvažniji posao" na kojoj će biti predstavljeni rezultati prvog nacionalnog istraživanja o utjecaju poslovnog sektora na dječja prava u Hrvatskoj te savjetodavno tijelo o dječjim pravima i društveno odgovornom poslovanju, koje će pod vodstvom UNICEF-a raditi na povećanju vidljivosti i ostvarivanju dječjih prava u poslovnoj zajednici.
Svakodnevno diljem svijeta poduzeća snažno utječu na djecu na niz izravnih i neizravnih načina. Djeca su korisnici proizvoda i usluga, ona su uzdržavani članovi obitelji zaposlenika poduzeća, članovi zajednica u kojima poduzeća djeluju, a i sama će jednoga dana biti zaposlenici i poslovni čelnici. Usprkos tome, većina poduzeća u Hrvatskoj tek treba spoznati na koje sve načine utječu na djecu i njihova prava te što taj utjecaj znači za poslovni sektor i održivi razvoj društva u cjelini.
Program konferencije obuhvaća sljedeće teme: zašto je važno da se poduzeća brinu o djeci i njihovim pravima; u kojoj su mjeri dječja prava prepoznata kao važan segment društveno odgovornog poslovanja u Hrvatskoj; koje je dionike nužno povezati i potaknuti da bi se ostvario veći angažman poslovnog sektora u korist djece. Na konferenciji će biti predstavljene i preporuke za poslovni sektor i ostale dionike za provođenje aktivnosti društveno odgovornog poslovanja usmjerenog na dječja prava, kao i konkretni koraci i aktivnosti koje poduzeća mogu poduzeti na radnom mjestu, na tržištu ili u zajednici kako bi unaprijedila živote djece.
Govornici na konferenciji istaknuti su predstavnici javnog i poslovnog sektora, a poseban je gost Ishmael Beah, UNICEF-ov ambasador dobre volje te međunarodno priznati autor knjiga A Long Way Gone, Memoirs of a Boy Soldier i Radiance of Tomorrow,  A Novel. Ishmael je od trinaeste do šesnaeste godine života bio dječak vojnik u Sierra Leoneu, a danas kao motivacijski govornik sudjeluje na konferencijama diljem svijeta.
Svoje sudjelovanje na konferenciji potvrdite e-porukom na partnerstva@unicef.hr najkasnije do 20. rujna 2019. godine.
Sudjelovanje na konferenciji ne naplaćuje se, a broj mjesta je ograničen.