Business Speed Dating
February 5th – ain the Forum is a new day for business networking because the sixth Business Speed Dating is on!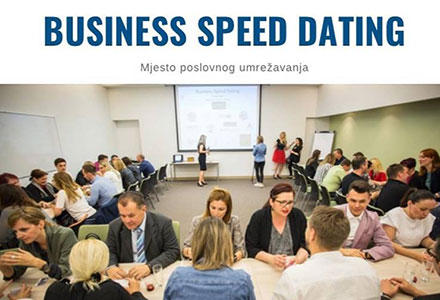 Zagrebački poduzetnici i poduzetnice pronašli su malo drugačiji način upoznavanja i stvaranja poslovnih kontakata – Business Speed Dating. Ovakvo poslovno umrežavanje u svijetu postoji od kraja 90-ih, a nedavno se pojavilo i u Hrvatskoj. Inicijatorice su youtuberice iz Life by Z&Z, Zrinka Peharec i Željka Barišić.
Na mnogim događajima u poslovnom svijetu uočeno je da se ljudi iz različitih branši nemaju prilike međusobno upoznati i na taj način im promiču poslovne prilike. Na ovom događaju izbjegavaju se takve situacije, te tako poduzetnici i svi željni poslovnih kontakata te poslovnih prilika ostvaruju mrežu novih poslovnih kontakata. Da imate samo minutu predstaviti nekome ono čime se bavite i zainteresirati ga za poslovnu suradnju, biste li znali što reći?
Novi, šesti po redu Business Speed Dating, održava se 5. veljače s početkom u 18 sati u kongresnom centru Forum Zagreb. Okupljeni sudionici bit će podijeljeni u grupe. Svaka grupa od 6 do 8 članova sjedit će za jednim stolom i imat će zadani broj minuta da se međusobno predstave i razmijene kontakte. Metodom rotacije svi sudionici će se međusobno upoznati. Svatko ima priliku u jednoj minuti predstaviti čime se točno bavi i koji problem rješava i tako pronaći svoj match s nekom drugom osobom ili osobama u kojima tražite svoje poslovne prilike ili suradnju. Željka i Zrinka iz Life by Z&Z, koje ujedno vode program i tu su da vam pomognu ako zastanete. Nakon upoznavanja i umrežavanja slijedi i neformalno druženje.
Sudjelovanje je slobodno, mjesta su ograničena, a prijave se vrše putem e-maila na: zrinka@lifebyzz.com.