B2B Future: Are you ready for 2020?
March 26 – Do not miss out on B2B Future: Are You Ready for 2020, where eminent experts will present key facts and trends that will mark business in 2020.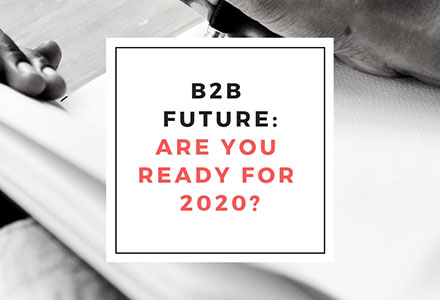 Ne propustite B2B Future: Are you ready for 2020?, savjetovanje koje će se u Forumu održati u utorak, 26. ožujka 2019. godine, s početkom u 11.00 sati. Na savjetovanju ćete od eminentnih stručnjaka moći saznati ključne činjenice i trendove koji će obilježiti poslovanje vaše tvrtke u 2020. godini.
Ovo savjetovanje predočit će kako tehnologiju, čak i u najkontroverznijim strukama, pretvoriti u najboljeg saveznika, otvarajući nove prostore razvoja kompanija te njihovih proizvoda i usluga, ali i ljudske kreativnosti. Upoznati s alatima pomoću kojih čak i sastavljanje financijskih izvještaja budućnosti zauzima dostojnu kraljevsku poziciju. Mjesto je to na kojem konsolidacija tržišta nije tek puka riječ, već način na koji, optimalnom alokacijom resursa i znanja, ostvarujemo najviše, hvatajući se hrabro ukoštac s nezaustavljivim trendovima. Mjesto na kojem postoje prostori za ostvarenje zadovoljstva vaših i naših klijenata i potrošača na novoj razini, no jednako tako i ostvarenje osobnog zadovoljstva zaposlenih, koji se od često "vrlo opterećenih pčela radilica" doista mogu pretvoriti u produktivne i u svim područjima kreativne osobe koje osobnim angažmanom izravno doprinose rezultatima tvrtke.
O ovim, ali i mnogim drugim temama govorit će:
o Eben Adams (VP, LegalSifter)
o Marko Porobija (managing partner, Porobija & Špoljarić)
o Rudolf Vido, (manager, Mazars Robotics Centre Slovakia)
o Kristijan Cinotti (CEO, Mazars Croatia)
o Andrija Garofulić (partner, Mazars Croatia)
o Luka Šmic (CPO, Upchain)
o Sonja Popović (CEO, SAP Hrvatska)
dok ćete vi na vrlo jednostavan način moći saznati jeste li doista spremni za 2020. godinu.
Prepoznavanje trendova i korištenje tehnologija, stalno unapređenje znanja poslovne zajednice i dijeljenje najboljih iskustava ideja su vodilja ovog događanja, na kojem će vodeći stručnjaci različitih poslovnih područja nastojati dati sve potrebne smjernice za uspješno poslovanje u 2020. godini, za unapređenje efikasnosti poslovanja i razine zadovoljstva svih ključnih dionika.
Prijaviti se možete putem e-maila na adresu prijave@b2bfuture.com.hr u što skorijem roku, osobito zbog ograničenog broja sudionika, zaključno s 20.3.2019. godine. Za dodatne informacije i sva pitanja obratite se na broj telefona 042 373 128.