6th Export Conference
July 2nd – sixth Export Conference organized by business magazine Lider and the Exporters Club will be held at Forum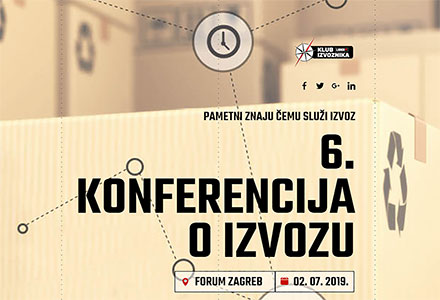 Konferencija o izvozu najvažnija je godišnja aktivnost Liderova Kluba izvoznika, projekta pokrenutog da bi senzibilizirao javnost, osobito donositelje političkih i ekonomskih odluka, o potrebi snažna poticanja izvoza kao preduvjeta rasta gospodarstva i BDP-a. Konferencija o izvozu održava se pod geslom "Pametni znaju čemu služi izvoz" kako bi se dodatno upozorilo na to da je upravo rast izvoza najvažniji čimbenik rasta BDP-a. Konferencija će se održati 02. srpnja u kongresnom centru FORUM Zagreb.
Cilj konferencije je uputiti na dobre primjere, ali i izazove s kojima se izvoznici svakodnevno susreću. Povezati poduzeća izvoznike s poduzećima izvoznicima‐početnicima, potaknuti suradnju na stranim tržištima. Sve to u funkciji poticanja razvoja poduzetništva, proizvodnje, inovativnih modela poslovanja i edukacije temeljem međusobne suradnje i razmjene iskustava.
Osim članova Kluba na konferenciji će sudjelovati drugi izvoznici te predstavnici Vlade, ministarstava i financijskih ustanova, parlamentarnih stranaka i zastupnici u Europarlamentu. Konferencija je namijenjena tvrtkama svih profila koje žele poboljšati svoje izvozne rezultate.
Više informacija o programu i načinu prijave pronađite ovdje.